BBQ Chicken Pizza – Tangy BBQ Sauce, Grilled Chicken, and Mozzarella Cheese on Crispy Thin Crust.The BEST BBQ Chicken Pizza
Jump to Recipe
Are you a barbecue enthusiast looking for a twist on the classic BBQ recipe? Look no further than BBQ Chicken Pizza! This delicious and savory dish combines the comfort of pizza with the meaty, smoky flavor of BBQ to create a uniquely satisfying meal. In this article, we'll provide you with an in-depth guide on how to make this dish, complete with a list of ingredients, cooking instructions, and helpful tips.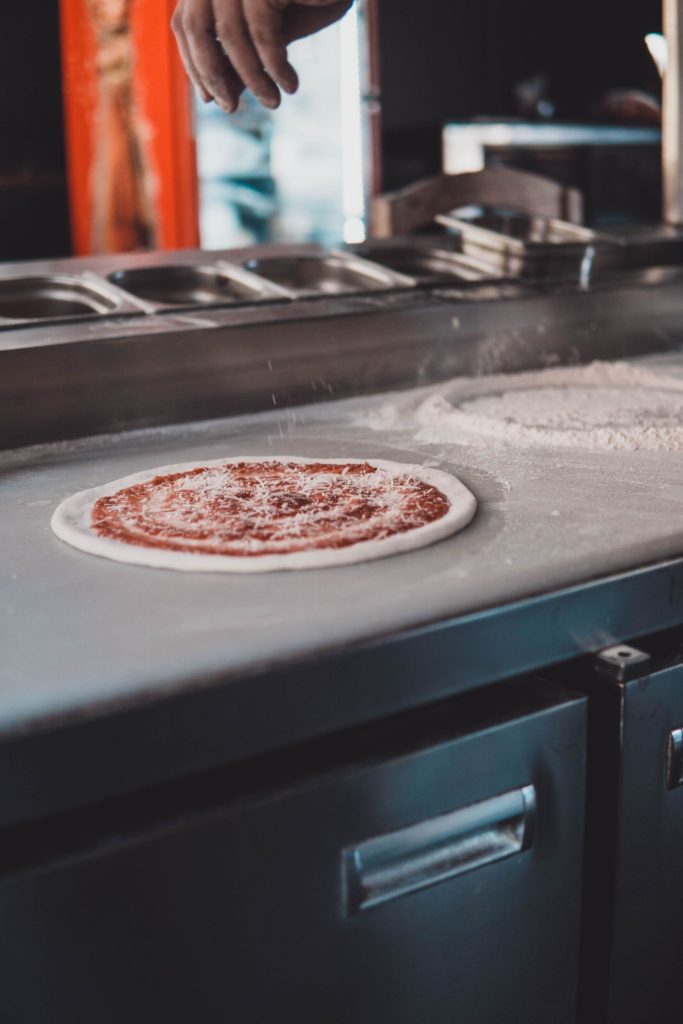 Are you looking for a mouth-watering dish that can be prepared in minutes? Look no further than BBQ Chicken Pizza, a delicious recipe that satisfies your taste buds every time.
BBQ Chicken Pizza is a pizza variety that combines the sweetness of barbecue sauce with the tanginess of chicken, topped with mozzarella cheese. It is crispy, savory, and flavorful, making it the perfect pizza for any meal occasion.
BBQ Chicken Pizza is a delicious and easy dish that requires minimal time and effort to prepare. With the right ingredients, equipment, utensils, and cooking instructions, anyone can make the perfect BBQ Chicken Pizza.
BBQ Chicken Pizza is a fun and flavorful twist on traditional pizza. With its tangy BBQ sauce and grilled chicken, this dish is sure to satisfy your cravings for both BBQ and pizza in one bite. Follow this recipe and our helpful tips to create a delicious and memorable meal for family and friends.
Cuisine lovers, get ready to taste the juiciest and most delightful BBQ Chicken Pizza recipe.
Enjoy this recipe with your family and friends and share your feedback or modifications in the comments section below. Happy eating!
Equipment and Utensils
Baking sheet or pizza stone
Large mixing bowl
Measuring cups and spoons
Rolling pin
Oven
Using specific tools and equipment for this recipe helps to improve the taste and texture of the pizza.
Serving and Presentation
Cut the pizza into 8 slices and serve hot. Garnish with additional fresh parsley or a drizzle of BBQ sauce if desired. BBQ Chicken Pizza pairs well with a side salad or garlic bread.
To make your BBQ Chicken Pizza more visually appealing and flavorful, serve it with these delicious accompaniments:
Fresh garden salad
Garlic knots
French fries
Iced tea
Beer or Wine
Storage and Reheating
Store leftover pizza in an airtight container in the fridge for up to 3 days. To reheat, place the pizza in a preheated oven at 350 degrees F for 10-15 minutes or until heated through.
Frequently Asked Questions
Q: Can I use a different type of cheese for this recipe?
A: Yes, you can use any type of cheese that melts well, such as cheddar or gouda.
Q: Can I use a different type of meat for this recipe?
A: Yes, you can substitute grilled or cooked ground beef, pulled pork, or even vegetarian options like tofu or tempeh.
Q: What BBQ sauce do you recommend for this recipe?
A: We recommend a tangy, sweet BBQ sauce for this recipe, like Sweet Baby Ray's or Bull's Eye Original.
Variations:
Substitute chicken with mushroom for a vegetarian option.
Add Pineapple for a tropical twist.
Use different cheese types like cheddar, blue or Parmesan cheese.
The BEST BBQ Chicken Pizza
Cuisine: American
Difficulty: Easy
This has become a Friday night tradition in our home! We hope you enjoy it as much as we do.
Ingredients
For the crust:

– 2 cups all-purpose flour

– 1 tablespoon active dry yeast

– 1 teaspoon salt

– 2 tablespoons olive oil

– ¾ cup lukewarm water

For the toppings:

– ½ cup BBQ sauce

– 1 grilled chicken breast, shredded

– 1 red onion, sliced

– 2 cups shredded mozzarella cheese

– 1 tablespoon fresh parsley, chopped

– Salt and pepper, to taste
Directions
Preheat your oven to 425 degrees F.
In a large mixing bowl, whisk together flour, yeast, and salt.
Stir in olive oil and water until fully incorporated.
Knead the dough on a floured surface for 5 minutes, then form into a ball.
Cover the dough and let it rise in a warm place for 10-15 minutes.
Roll out the pizza crust on a floured surface to your desired thickness.
Transfer the crust onto a lightly greased baking sheet or pizza stone.
Brush BBQ sauce over the crust, leaving a ½ inch border.
Top with shredded chicken, sliced red onion, and shredded mozzarella cheese.
10. Season with salt and pepper to taste.
11. Bake for 20-25 minutes or until the crust is golden brown and the cheese is melted.
12. Garnish with fresh parsley before serving.
Expert Tips
For a crispier crust, pre-bake the crust for 5-7 minutes before adding the toppings.
Experiment with different BBQ sauces to find your favorite flavor profile.
To save time, use a store-bought pizza crust instead of making your own.
For a smokier flavor, add pre-cooked bacon on top of the pizza.